A profile of Britvic: winner of the Embedding an Integrated Approach award at the Finance for the Future Awards 2021.
Winner: Embedding an Integrated Approach
What
Britvic is a soft drinks business with a portfolio of drinks brands. Key elements of its Healthier People, Healthier Planet approach include reducing the impact of packaging, carbon reduction, water stewardship and healthier consumer choices.
As one of four strategic priorities, Healthier People, Healthier Planet is an integral part of Britvic's core business strategy and 2025 goals. These strategic priorities are interconnected: Healthier People, Healthier Planet has helped to shape Britvic's commercial growth areas and, in turn, the company's commercial activity informs the sustainability approach. To support the integrated strategy, Britvic adopted a people, planet and performance approach to decision making.
Healthier People, Healthier Planet is incorporated into the annual operating plan that drives decision making across all business units. Tools and processes – such as a carbon calculator and a sustainable business screening process – are supplemented by a learning programme to help staff bring sustainability into their day-to-day decisions and practices. The finance team provides crucial support in these areas and has built Healthier People, Healthier Planet KPIs into monthly management reports.
Britvic showed clear integration with examples of collaborative working across functions. The finance function has taken a lead role in building strong reporting to inform decision making and embedded this into group, business unit, project and employee evaluations.
Why
Growing interest from stakeholders and increasing regulation of plastic bottles and sugar content in the soft drink industry means that sustainable business leadership gives Britvic a competitive advantage.
Investors have become more engaged on environmental and social issues. Employees – and prospective employees – are motivated to work for companies that are taking active steps to have a positive impact on people and planet. Consumers are looking for products that help them to make better choices for their health and for the environment. Britvic's customers want to meet both consumer demand and their internal social and environmental targets.
Britvic considers some areas fundamental, such as reducing carbon and achieving zero waste to landfill. Beyond these fundamentals, it is important for Britvic to focus on social and environmental issues where it could have the most impact in the world and could create the most commercial opportunities for the business. This thinking has driven the company's focus on healthier products, recycled packaging, water stewardship, and consumer and employee wellbeing.
Consumer and regulatory expectations of companies continue to push for sustainability. Integrating social and environmental factors into how the company does business helps Britvic to meet these expectations, becoming a more responsive and resilient organisation.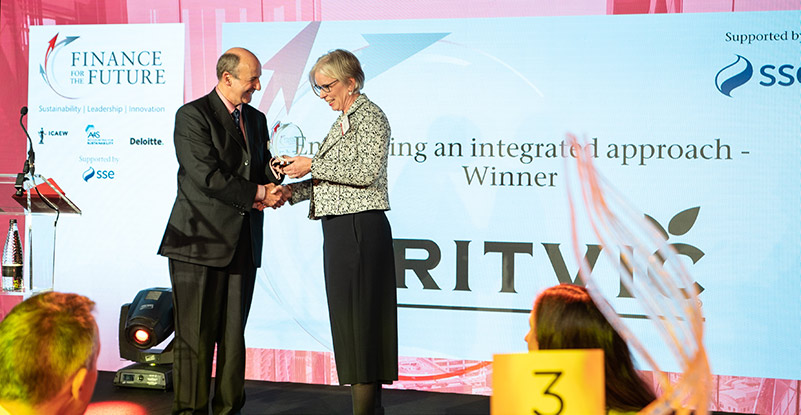 The reporting centre of excellence looks at the end-to-end process for improvements. They quickly found that non-financial reporting was really no different than getting the finance data and reports together – and could see the importance of it. Once people get stuck in, their mindset changes.
How
Britvic has taken steps to ensure that Healthier People, Healthier Planet drives decision making across the business, at all levels:
Sustainability is a key focus area from board level down to the business units. Each board meeting has an ESG update; quarterly business reviews for the business units include a Healthier People, Healthier Planet scorecard; and bonuses for the top leaders in the company – not just the executive team – are linked to achieving Healthier People, Healthier Planet KPIs.
The strategy team tracks Britvic's progress towards the 2025 goals that support its global strategy. Each month, the team conducts a 'deep dive' into a specific area to better understand how the company is performing and where it can improve.
Every person in the procurement team has Healthier People, Healthier Planet objectives in their annual development plan. This ensures that the procurement team focuses on sustainability when making procurement decisions and negotiating with suppliers.
To make sure that Healthier People, Healthier Planet is embedded in everything Britvic does, the company launched an employee engagement learning programme. Modules introduce employees to fundamental concepts in different business areas. Examples from across the business show how staff can bring people and planet considerations into their roles.
The CFO chairs the ESG committee. She actively and consistently engages the finance team on the Healthier People, Healthier Planet strategy and goals. This creates impetus in the finance team to think about sustainability in their work, which led to Britvic being an early adopter of sustainability-linked finance.
The finance team works closely with the sustainable business team on tools and processes, including a carbon calculator and sustainable business screen. For each of the Healthier People, Healthier Planet goals, the screening tool looks at whether a proposed decision will help the company get closer to meeting the goals or set it back – and how it could mitigate any negative findings.
Monthly management reports, prepared by finance, include non-financial performance and report progress against the Healthier People, Healthier Planet KPIs. The finance team's reporting centre of excellence has played a key role in enhancing the quality of non-financial reporting, streamlining processes and removing duplication.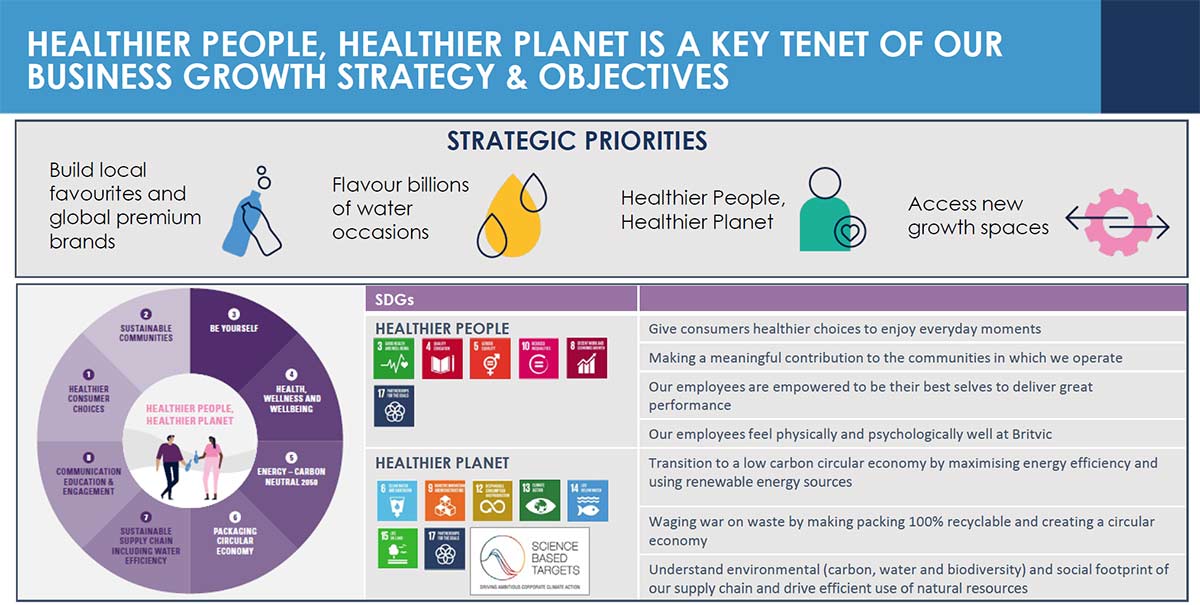 Applying an integrated approach to commercial decision making
Healthier People, Healthier Planet aligns with and supports the more directly commercial elements of the strategy. The following examples show how the company has brought sustainability and financial performance together when making business decisions.
Rethinking packaging
Britvic now uses 100% recycled PET (rPET) bottles for two of its drinks brands and is in the process of applying this to the rest of its UK portfolio by the end of 2022. For Ballygowan mineral water, the extra cost of rPET bottles was not a cost that could be passed on to the consumer by charging a premium price, so Britvic offset the cost by light-weighting the bottles at the same time. This made the decision cost neutral: the plastic costs more but Britvic needs less of it to make its bottles.
The company is now looking at how making even bigger reductions in packaging could open up new business opportunities.
Removing sugar
Helping consumers to make healthier choices by removing sugar from drinks has often, but not always, reduced costs for Britvic. Where an innovation or product offers an extra consumer benefit, the company also has the opportunity to charge a premium. By taking action early to tackle sugar and produce low-calorie drinks, Britvic was positioned well to adapt to increased taxes on sugar for soft drinks manufacturers in the UK and Ireland.
Download the case study
Want a copy of this case study? You can download a PDF version using the link below.